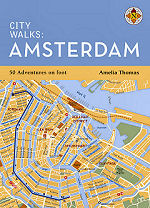 50 adventures on foot
| | |
| --- | --- |
| auteur(s) | Amelia Thomas |
| uitgeverij | Elmar |
Weg met de GPS, de stadsgids of die onhandige stadskaarten en ontdek Amsterdam, te voet, met een gewone kaart. Dat kan met de nieuwe Citywalks Amsterdam van uitgeverij Elmar, het eerste deel van een nieuwe serie Stadswandelingen.
Of je nu voor de eerste keer komt of nieuwe plekjes wilt zien, deze handige wandelkaarten bieden alles wat je nodig hebt.
Avontuur
Elke kaart uit deze kaartbox betekent een wandelavontuur, biedt alle informatie en op de keerzijde staat de wandelroute ingetekend en natuurlijk met alle straatnamen.
Jaszak
Zoek een of meer wandelingen uit en steek de bijbehorende kaarten in je jaszak. Elke wandeling is 2-4 kilometer en je kunt, indien gewenst, van de ene wandeling switchen naar de andere. Alle bezienswaardigheden worden vermeld en je gaat heel gericht op stap, afhankelijk van wat je wil zien of de hoeveelheid tijd die je kunt besteden.
Taal
De Citywalks Amsterdam zijn Engelstalig. In november 2006 zullen in het Nederlands de Stadswandelingen Londen en Parijs verschijnen.
Informatie
City Walks Amsterdam
50 kaarten in een box
prijs: € 12,50